The fast growth of digital services has led to an exponentially increased data sharing. According to the World Economic Forum data has become a new asset. In smart cities, for example, the availability of data helps provide better road network analysis, traffic management, and mobility service planning. However, as the demand for data increases, privacy and security become a more frequent topic. A survey [1] by The Conference Board, conducted in February 2020, has confirmed that data security, third-party sharing and the lack of transparency are some of the top worries of individuals regarding data sharing. This is where the General Data Protection Regulation (GDPR) comes in. GDPR enhances individuals' control and rights over their personal data by presenting several lawful bases such as informed consent. Non-compliance with GDPR can result in hefty fines thus companies are working towards more transparent and traceable data processing.
How does smashHit support traceability?
We have developed a traceability component (Figure 1), which provides an end-to-end data use traceability infrastructure. The component allows data owners and providers to trace their data and to retrieve data logs of the processing pipeline of specific datasets. To support this, we use metadata to indicate a data transfer and to log each data transaction. In addition, with the help of digital signatures for authentication purposes, the traceability component ensures the integrity of both data and the processing related to it.  Our traceability component consists of a traceability manager and a traceability module. The traceability manager gathers the logs of all individual companies and offers a single-entry point. The traceability module, which needs to be deployed to every data provider/processor, supplies an interface for logging data transfers and verifications. smashHit's data use traceability infrastructure tackles various privacy concerns of data owners and supports GDPR compliance.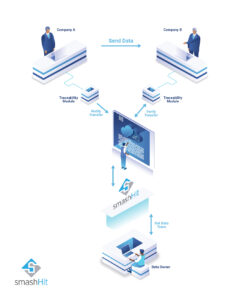 You can find more about smashHit's work on consent, data use traceability and on raising consent awareness on our scientific publications page.
Wondering how smashHit handles different contexts for data sharing? Have a look at our latest LinkedIn post!
—
References:
[1] https://www.conference-board.org/publications/consumers-attitudes-about-data-practices-ES